I'm a teaching professor of English at Drexel University in Philadelphia. This impressive title means people have to give me free food. Okay, not people. And not food. Still, it's a title.

I teach Fiction Writing, Writing Humor and Comedy, Superheroes in America, Strangers in Strange Lands, Strange Fiction, and First-Year Writing.
Fiction Writing is a creative writing workshop. Students write their own short stories, read and critique student fiction, and participate in class discussions about student work and the concerns of fiction writers, including such matters as point-of-view, meaning, plot, scenes, setting, pacing, dialogue, description, tone, voice, syntax, editing, character, prose, and publishing.
Writing Humor and Comedy is a creative writing course in which students write and workshop their own humor writing in additio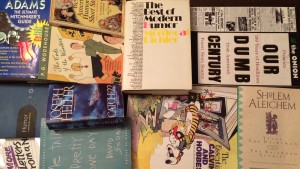 n to reading and learning from published humor by writers in a variety of genres, including essays, novel excerpts, short fiction, and all sorts of comedic silliness found online and in print by many authors.
I regularly teach the course at Drexel, and have taught it a couple of times at the University of Pennsylvania, where for a few years I also taught an analytical writing course called What's So Funny.
In 2006, the book Drexel University Off the Record (the unauthorized guide for prospective students) named "Scott Stein's writing humor and comedy class" one of the ten best things about Drexel (I got beaten out by eight apparently even better things about Drexel, including such important educational features as "cheap basketball tickets" and "great local drink specials," but I'm not bitter). 
Superheroes in America is an online course that examines such topics as the superhero and society; superheroes and the la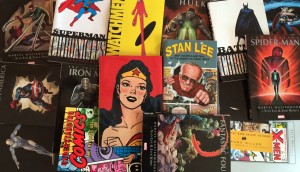 w; the psychology and motivations of superhero characters; the comic book industry; the Comics Code Authority and censorship; superhero parody and homage; superhero fans and real-life superheroes; and the themes and changing nature of the superhero story.
Strangers in Strange Lands looks at adventurers, cosmonauts, aliens, immigrants, and time-travelers in multiple genres as students explore how tales of strangers in strange lands satirize or examine human behavior and society and help us to see the world with fresh eyes. Readings/viewings include Boulle's Planet of the Apes as well as the original movie, part of Swift's Gulliver's Travels, Woody Allen's Sleeper, part of Twain's A Connecticut Yankee in King Arthur's Court, Poul Anderson's "The Man Who Came Early," Kafka's "A Report to an Academy," Orwell's "Shooting an Elephant," as well as other stories, essays, excerpts, nonfiction, comic books, movies, and television.
Strange Fiction is an introductory honors seminar focused on discussing odd stories. Students read work by John Barth, Franz Kafka, Ursula K. LeGuin, Gabriel Garcia Marquez, Jorge Luis Borges, Ray Bradbury, Tobias Wolff, and other writers.