For information about my novels, see the books page on this site.
Besides writing novels, I sometimes write short fiction and satire, essays and reviews, headlines and jokes, and blog posts. Below are some links and highlights.
Short satire and fiction
• "Garghibition" was originally published in Liberty magazine (1999) and was anthologized in 2015 in The Oxford University Press Humor Reader. You can read it online at When Falls the Coliseum.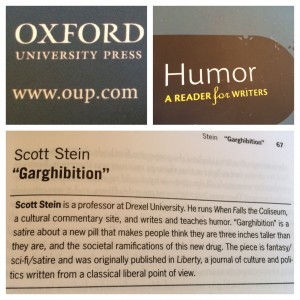 • "The Stacker" was originally edited and accepted for publication by Gordon Lish for The Quarterly, just as the journal was running out of money and ceasing to exist. Instead of appearing in The Quarterly, the story was published in The. G.W. Review in 1997. "The Stacker" was anthologized in Shale (Texture Press 2015). You can read "The Stacker" and the story of its publication here.
• "Big Switch" in National Review, 2009.
• "Kangaroo Court" in When Falls the Coliseum.
• "Zero Tolerance" in Liberty, 2005. You can read it online at When Falls the Coliseum.
• "The Last Peanut" in Art Times, 1996. You can read it online at When Falls the Coliseum.
Essays and reviews
• "I'm a Professor Who Doesn't Use Trigger Warnings. Here's Why" in Reason magazine. May 12, 2016.
• "The Failed Playwright of Virginia Tech" was the cover essay in Liberty. July 2007. It's about the claim that the mass killer's creative writing should have been taken as a warning sign. You can read the pdf of the print edition here (pages 19-22).
• Book reviews in the Philadelphia Inquirer.
Headlines and Jokes
My site Steinlines contains headlines, one-liners, jokes, and humorous commentary on news and other stuff. (These days, I mostly post this kind of content on Twitter and Facebook and archive the ones not tied to current events at Steinlines. Follow me @sstein.)
Blog
I've been running the group blog When Falls the Coliseum since 2008 (really, since 1999 — it's complicated). The site has a bunch of writers from a bunch of places writing about a bunch of things. Here are a few of my posts.
• "Wild Horses vs. Mick Jagger"
• "What's Depressing Me Today: Galaxies Colliding"
• "Literally Decimated, Figuratively Speaking"
• "Superman Lacks Super Understanding of Economics, Causes of Crime"