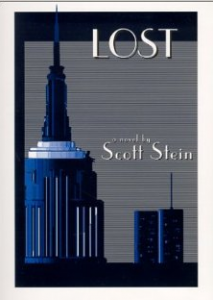 Jeremy Keller is being followed. And no, he doesn't know why he's being followed. And his job is nothing to brag about either. And a certain police detective has it in for him. And the love of his life doesn't know he exists. And he thinks he's responsible for the death of an innocent man. And his rent is late. And he lost the mysterious envelope that just might have the answers he's looking for. But at least he's being followed. Not everyone can say that. But then, not everyone is destined for great things.
Lost was self-published in hardcover in 2000 (my own little startup publishing company, Free Reign Press, now defunct). I did readings/signings at Barnes & Noble and Borders stores in Ne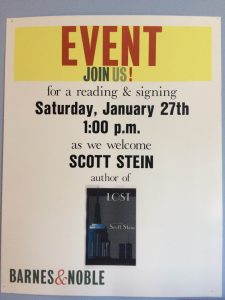 w York and Pennsylvania. As you can see, they spelled my name correctly on posters.
Lost is not currently for sale. (If you're a publisher interested in making the book available, please contact me) For now, I'll just share the review of the novel that appeared in the Philadelphia Inquirer when the book was published.
Below is the complete text of the review of Lost that appeared in the Philadelphia Inquirer on February 8, 2001:
There are a million laughs in the big city, as a sharp-eyed writer shows
Lost
By Scott Stein
Free Reign Press. 207 pp. $22.95
Reviewed by Robin Henry
Who's the man with the bushy mustache?
That's what Jeremy Keller wants to know.
The reader wants to find out, too. But there's more to Scott Stein's Lost than revealing the identity of the mystery man following Jeremy.
The plot is nearly overshadowed by the wonderfully comic way Stein, who grew up in Queens and now lives outside Philadelphia, depicts urban living and modern culture.
Jeremy Keller knows his life has a purpose. So what if he's been working in a toy company mailroom for seven years and has nothing to show for it but a collection of 2,918 rubber bands? And so what if he's in love with a woman who barely knows he is alive?
He's being followed. That happens only to people who are special. And Jeremy believes he's special. He's just been waiting for fate to step in and give him a sign.
It could be the man with the bushy mustache. Or it could be a mystery package that suddenly disappears. Either way, Jeremy knows something big is about to happen.
And so the novel begins. The mystery man and the mystery package set off a chain of incidents and misunderstandings reminiscent of 30-minute prime-time TV.
Just like the man with the bushy mustache, the reader gets to follow Jeremy in and around New York, from the top of the Empire State building to the depths of the subway, as he tries to find a coworker he thinks may have died, tries to woo the girl of his dreams, and is forced to wait for his destiny — and the man with the bushy mustache — to reveal themselves.
Stein has a keen eye for the details of our cultural landscape. And he sprinkles his scenes with deadpan one-liners and cultural reference points. Theme restaurants, bomb scares, video games, voice mail and even flesh-eating viruses are stitched into amusing sitcom-style situations.
In one instance, Jeremy is taken to the hospital after having an allergic reaction to strawberries. When he is ready to be discharged, he learns his clothes have been destroyed as a precaution. He could have had an Ebola-style virus.
A nurse suggests that Jeremy "borrow" the jumpsuit of an off-duty — and a bit off-kilter — janitor to get home. But Jeremy quickly rejects the nurse's plan:
"This isn't a sitcom you know. This is my life. I'm not going to get caught up in wacky misadventures posing as a janitor and hiding from a screwdriver-wielding maniac just to please you — this isn't Three's Company."
Yet Jeremy's daily life is a set of wacky misadventures. He gets clobbered by bureaucracy and basic technology and even has a few brushes with the law, all with great comic effect.
Then there's the girl of his dreams. She works at a specialty shop that sells only strawberry products — the very food he is allergic to. He doesn't have the courage to ask her out, so he goes to the shop every day and orders a basket of strawberries just to see her.
Instead of throwing the berries away when he gets outside, he offers them to people on the street — or at least tries to.
One woman demands that he taste the fruit first and requires him to sign a note and show his driver's license before she'll take a piece: "How did she know he wasn't some psycho handing out poisoned strawberries for kicks? She wouldn't fall for his ploy, refused to be the headline of tomorrow's New York Post: STRAWBURIED!"
Is Jeremy naive in a savvy city? Maybe so. Throughout the book his well-intentioned acts are turned upside down by others' fear and cynicism. But Stein takes care to keep the novel light. Even workplace violence — or the perceived threat of it — makes a great punch line.
So who's the man with the bushy mustache? The question does get answered. And true to form, the answer has a comic twist. But it isn't the revelation of Jeremy's destiny that makes Lost a page-turner. It's Stein's insightful tweaking of city living and modern times.
Robin Henry is an Inquirer staff writer